My neighbors are intense about Halloween. (I mean, I do live a block away from an Elm Street). Somehow, every year, people outdo themselves coming up with new ways to decorate pumpkins. Whether they go for cutesy ones, or pumpkins with all sorts of blood and guts, I love walking around to see the creativity.
If you prefer cute over gory, I get it. Bloody pumpkins aren't for every one — even if it's faux blood! I took a lap around Pinterest, to find some of the sweetest and cutest ways to (easily) decorate some pumpkins this year.
Here are the highlights.
1. Marbleized pumpkins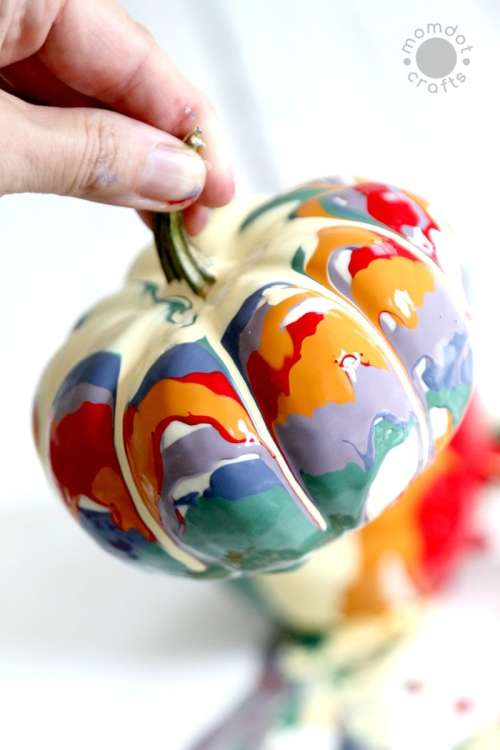 Marbleizing pumpkins is a trendy, fairly new way to decorate pumpkins. This tutorial from Mom Dot shows you how to do it with milk paint. It's super easy to do, but it is messy. Just be sure to put down lots of paper before you get started and you'll be good to go.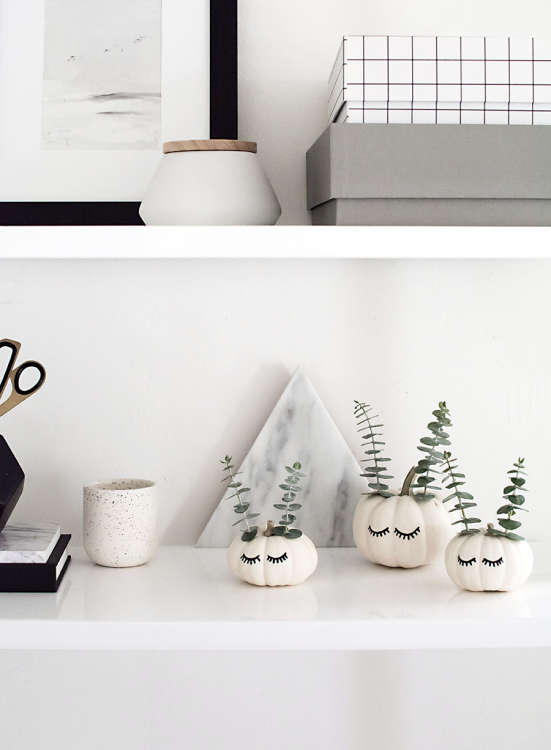 Sleeping mini pumpkins are cute. Add on fluffy eucalyptus antlers? Even cuter. Using natural elements to decorate pumpkins isn't new, but this version from Homey Oh My feels totally fresh with endless possibilities for exploration.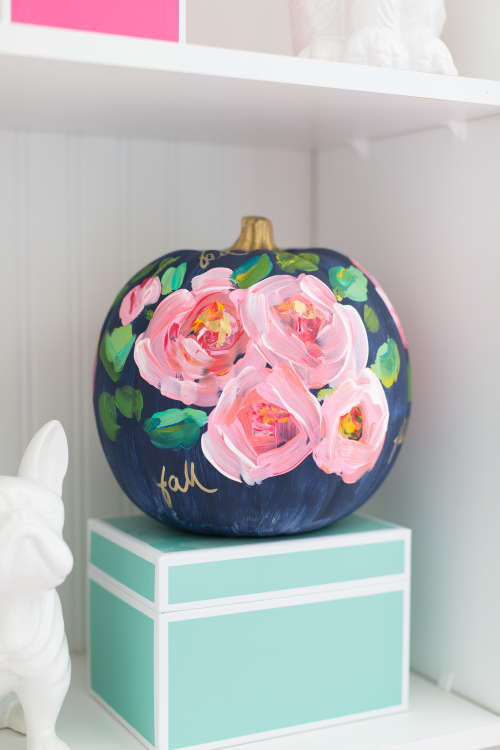 I know what you're thinking, but I swear this look is easy enough for anyone to achieve — even if you're not particularly good at painting. This lovely version from Craftberry Bush is a sweet, feminine taking on Halloween decorating. And it comes with a video tutorial.
See it on Pinterest.
4. Hand-painted brushstrokes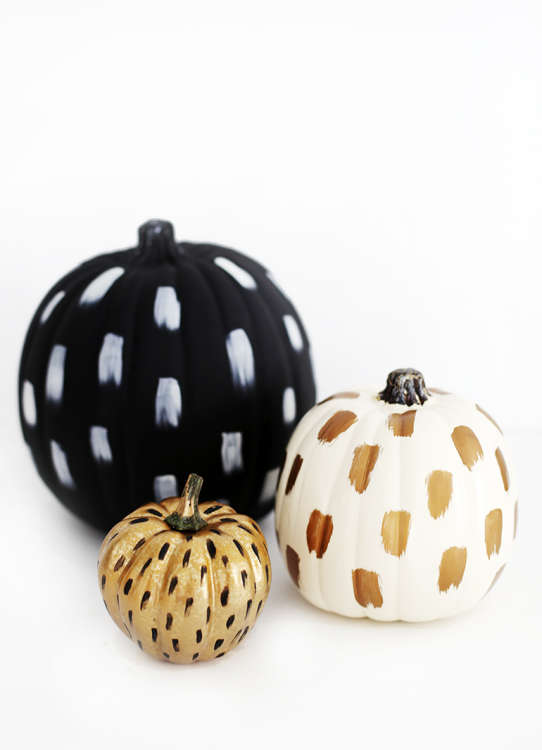 If you watched that video and still feel intimidated, maybe this — from The Merrythought — is more up your alley. You'll just need to paint a pumpkin and add some brushstrokes. No skill needed!
See it on Pinterest.
5. Glow-in-the-dark pumpkins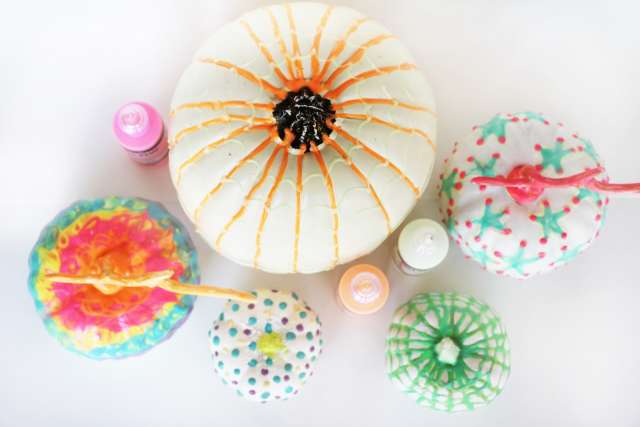 If you don't feel like carving, glow-in-the-dark puff paint can create a similar effect without a knife. Plus, you can create more intricate glowing designs. I love these from the team at I Love to Create.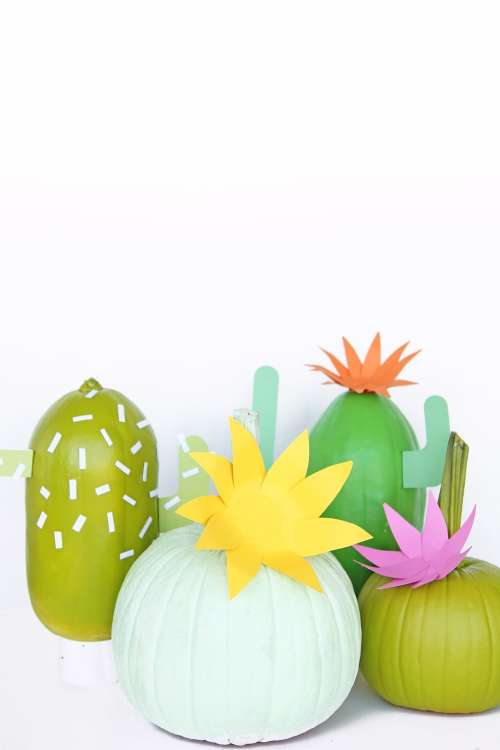 Cacti couldn't be trendier these days, and these cacti pumpkins from Aww Samcouldn't be easier to make. You just need to spray paint the pumpkins and use a hot glue gun to add some paper and you're done.
See it on Pinterest.
7. Fabric-covered pumpkins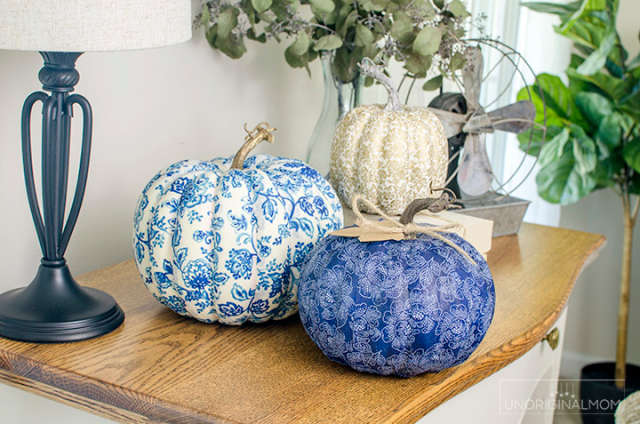 You can decoupage quite a few things to pumpkins — tissue paper, napkins, magazine clippers, and newsprint among them — but fabric provides lots of possibilities for color and pattern and a good use for scraps from other projects. This trio from Unoriginal Mom uses leftover quilting fabric and faux pumpkins.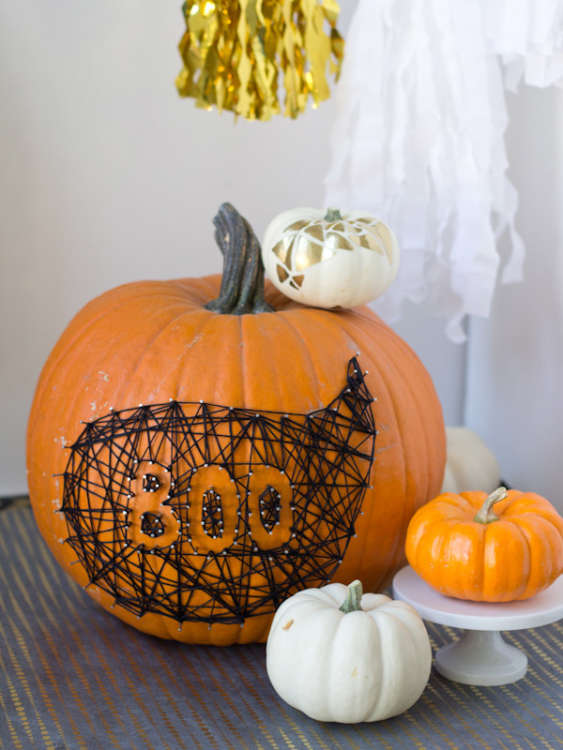 Small nails and embroidery thread come together in this project that's an upgrade to those string art designs you made in elementary school. Here, the Lovely Indeed team actually did two pieces of art (the word "boo" and the speech bubble) on one pumpkin.
See it on Pinterest.
9. An out-of-this-world pumpkin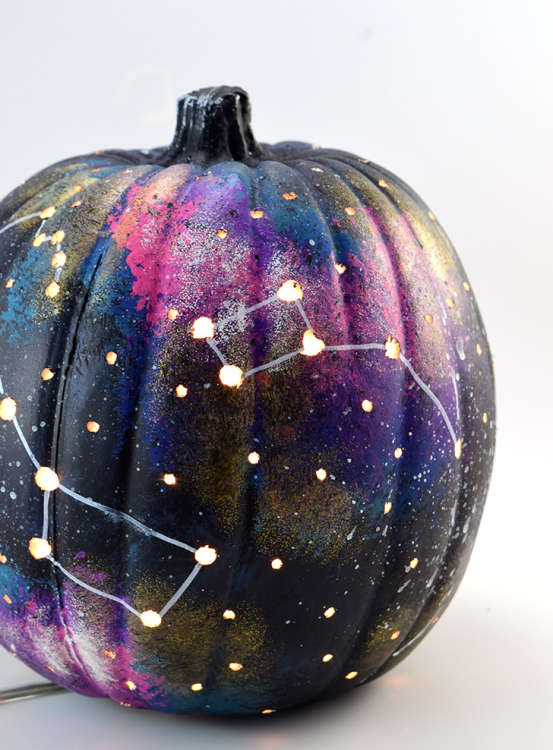 This pumpkin uses two fun techniques: splattering paint on with a toothbrush, (for the starry-skies effect) and drilling holes with a power tool (for those glowing pinpoint stairs). Allison at Dream a Little Bigger did hers on a black faux pumpkin, but it works just as well on a real one if you paint it black first.
See it on Pinterest.
10. Ice Cream Cone Pumpkin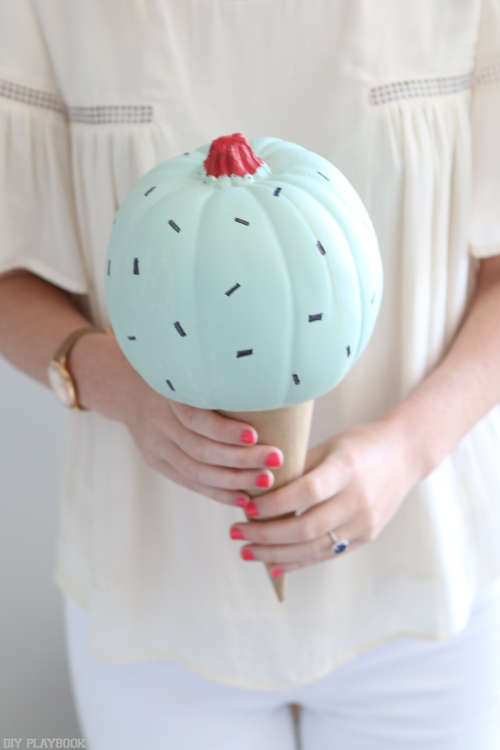 How cute is this idea from The DIY Playbook? It was made using a craft pumpkin, some cardboard cones, and some paint. Craft pumpkins are obviously a lot lighter than real pumpkins, but the same idea would also work with a mini pumpkin.
Which one is your favorite?